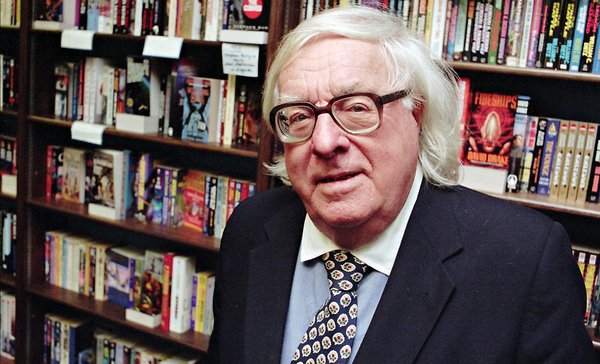 Ray Bradbury, a science fiction master and pioneer, died on June 5 at 91. He will be remembered as a man who elevated the genre out of the pulp fiction underground and offered it up to the mainstream.
In a world that pre-dated the Internet and iPods, Bradbury was preoccupied by notions of time travel, space exploration, and alien intelligence− not to mention the dangers of totalitarian regimes. Through a career spanning 70 years, Bradbury's fiction features Martians, robots, dinosaurs, and even virtual nurseries that spit out children's worst nightmares into their own backyards.
The National Post quotes Toronto-based sci-fi author Robert J. Sawyer:
He was the guy who brought science fiction to the masses. If he hadn't existed, science fiction would have been a well-kept secret in literature instead of a widely consumed phenomenon.
He is best known for works such as Fahrenheit 451 (1953), about the dangers of political correctness and technology in a world where books are forbidden; The Martian Chronicles (1950), a series of stories about the colonization of Mars that's been called an allegory about colonial and postwar America; and Something Wicked This Way Comes (1962), which follows two 13-year-old boys' frightening experiences with a mysterious travelling carnival. Bradbury received a special Pulitzer Prize citation in 2007 for his distinguished, prolific and deeply influential career as an unmatched author of science fiction and fantasy.
His works have popularized concepts that are well known today. A Sound of Thunder, about a time-traveller who goes back to the dinosaur era and steps on a butterfly, altering global history, anticipated the butterfly effect. Like Jules Verne, he foresaw futuristic inventions, such as flat-screen TVs and personal music players.
Despite a 1999 stroke that left him confined to a wheelchair, Bradbury continued to write novels, plays, films, and a TV miniseries. He most recently authored an essay in the June 4 issue of The New Yorker, "Take Me Home." Bradbury penned scripts for John Huston's 1956 film version of Moby Dick, and episodes of The Twilight Zone and The Ray Bradbury Theater, featuring adaptations of several of his stories.
Though involved in innovative projects like the 1964 New York World's Fair and Walt Disney's Spaceship Earth display, Bradbury didn't embrace all technology. He discouraged use of the Internet, and resisted ebooks.
Born in Waukegan, Ill., Bradbury got his first taste of fantasy and sci-fi from the magazines that guests brought into his grandparents' boarding house. He writes in "Take Me Home":
I memorized all of John Carter and Tarzan, and sat on my grandparents' front lawn repeating the stories to anyone who would sit and listen. I would go out to that lawn on summer nights and reach up to the red light of Mars and say, Take me home! I yearned to fly away and land there in the strange dusts that blew over dead-sea bottoms toward the ancient cities.
He is survived by his four daughters. His wife, Marguerite, died in 2003.